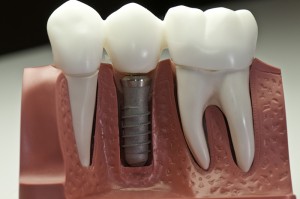 Are you missing one or more permanent teeth?  Dr. Charles Peter in Clearwater, Florida may recommend dental implants as a solution.  A dental implant is made up of a titanium implant post and a dental restoration. The dental implant is placed by a specialist where your natural tooth is missing acting like an artificial root.  Dr. Peter then can place a dental restoration, which can be a dental crown or a dental bridge, on the implant giving you a very strong and aesthetic replacement tooth.
If a dental implant is right for you, a specialist will place the implant into the bone where the tooth is missing. During the healing process, which can take up to twelve weeks, your natural bone will grow around the implant, making it a permanent part of your smile.  Once fully healed, Dr. Peter will design the final crown or bridge that fits over the implant.  Dental implant treatment is the closest treatment we have to give you back the feel of your original, natural teeth.
We encourage you to contact our dental office today to learn more and to schedule your next appointment with our dentist. We are happy to restore your smile!